Licensed software for control and for data acquisition and evaluation with all requirements for GMP and standards.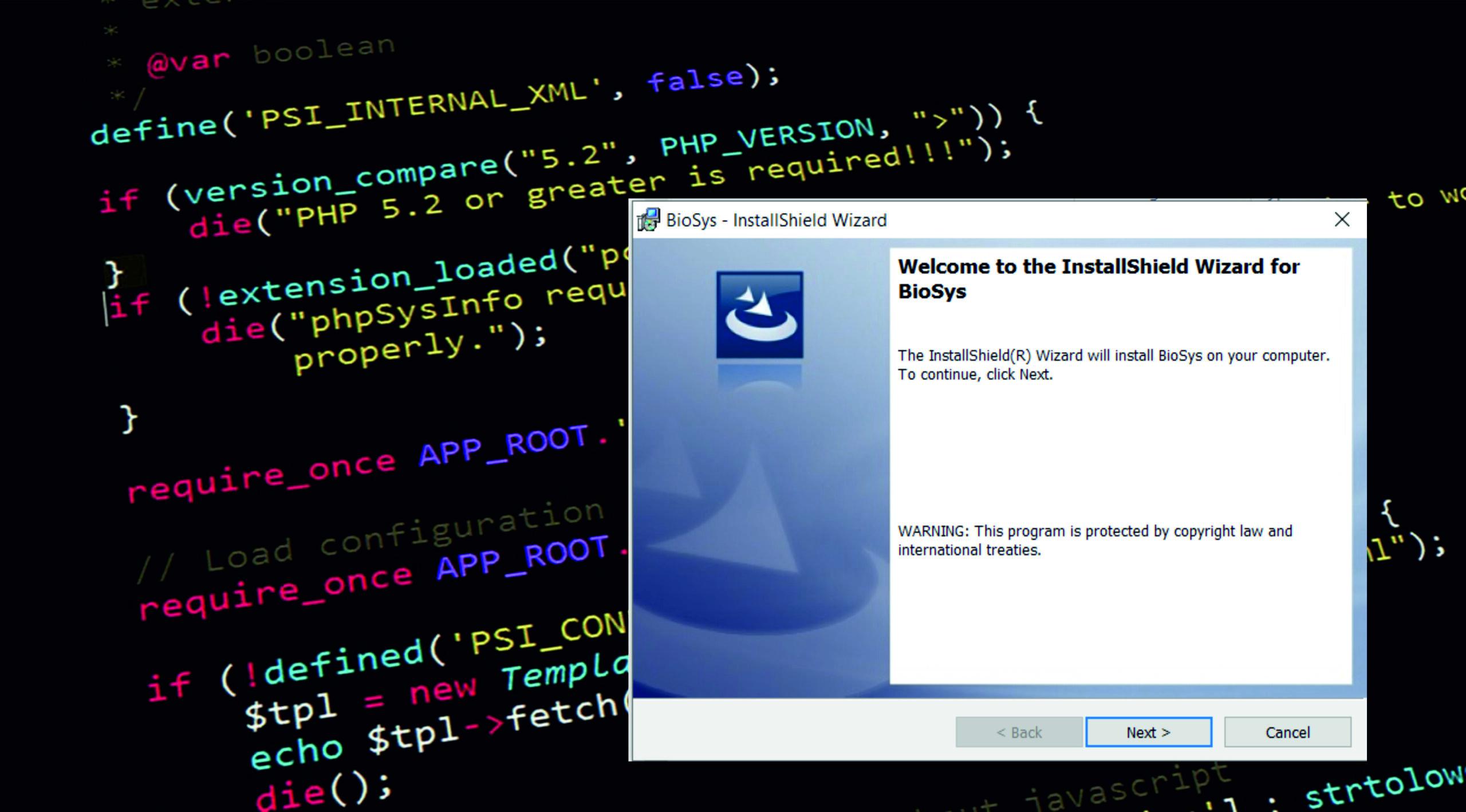 BioSys operating software
The proven BioSys control software is part of the scope of delivery of the Biochrom 30Plus. With this software all functions of the Biochrom 30Plus and also older Biochrom models can be controlled manually. The BioSys displays all parameters such as temperatures, pressures and switching states and detects errors in the system. Depending on their severity, error messages lead to corresponding reactions ranging from warning messages to the termination of the analysis.
A program mode allows sample sequences to be processed automatically using different methods, which enables a 24/7 routine without having to intervene much. The reagent management ensures that a warning is given before the buffer and reagent run out.
An unlimited number of analysis programs can be programmed in the edit mode, which enables constant access to the most varied of analysis methods.
The software is easy to install and set up. The BioSys is available in versions for the Windows 7 and Windows 10 operating systems with 32 and 64 bit.
The BioSys has a software interface to the data acquisition and evaluation software EZChrom Elite and OpenLAB CDS EZChrom Edition and enables the programmed sample sequences with all sample data to be automatically transferred to the connected DH software.
OpenLAB CDS EZChrom Edition
One of the most popular and powerful data acquisition and evaluation software for chromatography. Analog signals from the Biochrom 30Plus are converted into digital signals using an A / D converter and fed to the software. You can find a brochure in PDF format here. The most important highlights are:
real multitasking,
Evaluation while the analysis is running through additional offline mode,
simplified method development with graphical interface,
Method and sequence creation using wizards,
Multi-level calibration for external and internal quantification,
linear, quadratic, cubic and point-to-point calibration functions,
Report formats can be defined by the user,
various data import and export options,
AIA standard file format,
DDE dynamic data exchange,
digital signature possible,
Intuitive report generator enables you to create your own detailed reports
System suitability functions integrated,
Data compatible with older EZChrom Elite versions,
This software complies with the FDA guidelines 21 CFR Part 11 for the electronic signature, audit trail,
User and data management,
as well as validation.
Clarity
A cost-effective data acquisition and evaluation software that has everything that chromatography software needs and that does not have to hide behind the established market leaders. Analog signals from the Biochrom 30Plus are converted into digital signals using an A / D converter and fed to the software. You can find a brochure in PDF format here. The most important highlights are:
Access through password protection on three levels: user, supervisor, administrator with detailed adjustable authorizations.
All regulations according to GLP and electronic signature according to 21 CFR Part 11 are met.
Simple and intuitive operation under all current Microsoft ™ Windows operating systems.
Clear presentation of the chromatograms and all associated parameters.
Integration functions (chromatogram post-processing) via icons or tables.
Saved changes to the data are documented (history).
Thanks to the "index card" format, all windows are always in view.
Types of display: single display, overlay, 3D display, enlarged sections.
Largely free design of the results tables (for the individual chromatogram and for the combination of several measurements).
Definition of your own table columns with mathematical functions possible
Preview function makes it easier to find chromatograms in the file directory.
Storage of the respective changes in the chromatogram (history)
Backup function.
Use in the network: Storage of measurement data on a central server and processing of chromatograms using the offline version on any other computer.
Extensive calibration functions: normalization, external and internal standard, reference peak method.
Graphical representation of the calibration curves or straight lines for each substance individually.
Specification of the calculated correlation factor.
Comprehensive but easy-to-use settings for printing.
Different options for exporting chromatograms, results and program settings.
Optional for a surcharge: SST module (System Suitability Test, e.g. information on limit values and mean values for each method).
EZChrom Elite
The previous version of OpenLab CDS EZChrom Edition was used as the best known and most popular DH software in chromatography for almost 2 decades and is no longer available on the market. However, we still have free licenses that we keep in stock especially for our customers.
This software only runs under Windows 7 with 32 bit and is therefore only suitable for older computer systems. So if you want to add a device to your existing biochrom system, but do not want to do without the usual software and are allowed to use a computer with Windows 7, you can still purchase this software from us for your new device. This software is still fully supported by our service and support.